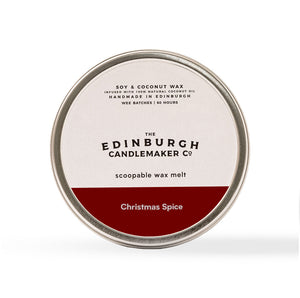 The Edinburgh Candlemaker Co
Christmas Spice
Regular price
£6.50
£0.00
Unit price
per
Tax included.
Approx lasts: 60 hours
'CHRISTMAS IN A TIN'
This stunning Christmas scent features warm notes of cinnamon, nutmeg and clove along with hints of glazed orange. An absolutely essential must-have Christmas classic for your home! 
*A gentle warning... Christmas Spice has been known to completely sell-out by early December! So please be quick to avoid disappointment. 
Scoopable Wax Melt
Hand poured using soy and coconut wax, infused with 100% natural coconut oil to give the product a softer finish.
Sustainable and reusable tin, approx 90g net weight
Directions
Our soy and coconut wax is naturally soft, but as we've added 100% natural coconut oil into the mix our scoopable wax melts are so soft and easy to use!
Simply scoop 1 teaspoon of wax from the tin using the wooden spoon provided and place the wax onto your wax warmer.
1 teaspoon should last approx. 3 – 4 hours at a time.
Please do not overflow the well of the burner, a small amount is all that's required to fill your room with fragrance and using just 1 teaspoon at a time will ensure your wax melts last so much longer.
Light an unscented tea light and place into the base of your wax warmer, or use an electrical wax warmer and switch on. The wax will slowly melt releasing fragrance into the room.
After the scent weakens, simply use a kitchen towel or cotton wool ball to absorb the remaining wax. Ensure your wax burner is clean before adding new wax.
---